A panel on 'Sustainable Development Goals' was held within the scope of the activities organized for the 75th anniversary of the United Nations, in partnership with Abdullah Gül University (AGU).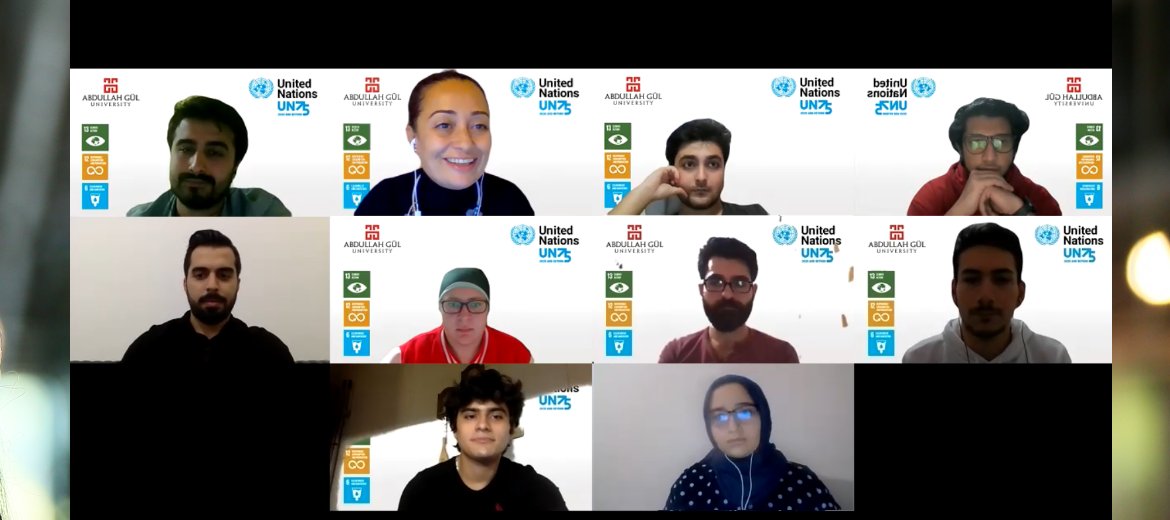 The panel, coordinated by Associate Professor Nigmet UZAL, one of our faculty members, was held online due to the Covid-19 pandemic. In the session, the UN's Sustainable Development Goals, such as Clean Water and Sanitation, Responsible Consumption and Production, Climate Action, were discussed.
The panel was also held as a AGU-LFW (Lecture Free Week) activity, which is held for one week each semester at our university. The list of panelists from different countries at the event is given below.
Panel Coordinator, Assoc. Prof. Nigmet Uzal, AGU Civil Eng Dept
Amal Nadifi, (Morrocco), MSc Student, Dept. Sustainable Infrastructure Engineering, AGU
Sedat Gülçimen (Turkey),Reserch Assistant, AGU Civil Eng Dept, MSc Student, Dept. Sustainable Infrastructure Engineering, AGU
Ghaith Khidrah (Saudi Arabia) Undergraduate Student, AGU Civil Eng Dept
Sayed Zakee Irfan Qadrı (Tanzania) Undergraduate Student, AGU Civil Eng Dept
Abdulrahman Essam Ibrahim (Eygpt) , Undergraduate Student, AGU Civil Eng Dept
Recep Tokdemir (Turkey), Undergraduate Student, AGU Civil Eng Dept
Enes Büyük (Turkey), Undergraduate Student, AGU Civil Eng Dept
Tolgahan Varışlı (Turkey), Undergraduate Student, AGU Civil Eng Dept
Kayaberk Livdumlu (Turkey), Undergraduate Student, AGU Civil Eng Dept